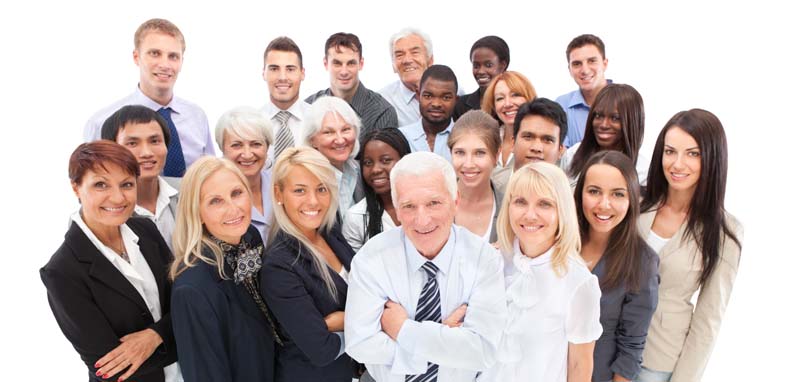 The very first rule of Digital Marketing is to know your audience. If you don't have a good grasp of who your audience is, where they can be found, and what their needs and desires are, you will struggle to source the right, qualified candidates for your positions. Today, we will cover the needs, wants, and best places to source each generation that is active in today's workforce, as well as which generations are the happiest at work, and who in the new year will be looking for employment opportunities.
Generation Z, aka "Gen-Z" (1997- 2012)
Generation Z is the newest generation to join the workforce. They are joining the working world during the biggest upheaval the world has had in generations. When surveyed, they report the lowest levels of happiness and fulfillment in their positions.
Happiness Levels:
When surveyed by Good Hire, Gen-Z reported being the most unhappy generation in the workforce, with 69% of them saying they are unhappy with their work-life balance. That same survey showed that 22% of this generation say they hate their jobs, and 59% say they are unfulfilled at work. The most common reason Gen-Z reports being unhappy at work is due to issues/concerns with management.
What they desire in a new position:
Gen-Z is new on their career paths, and they are looking for short-term commitments that give them the most opportunity to grow, as well as:
1) Mentorships and learning opportunities
2) Flexibility | this includes remote work, flexible schedules, and even gig work
3) The ability to make a difference within their company
4) Companies that embrace technology
5) Work-Life Balance
6) Tuition reimbursement
Recruitment Tips:
What are some steps you can take to attract Generation Z? Start by creating separate landing pages on your career site that caters to the desires of this generation. Content on this page should highlight how your positions impact your company and your community—your employees' work-life balance, extended benefits, and learning opportunities.
Source Gen-Z candidates via social media. This is not the generation of Facebook and LinkedIn. If you are looking to reach this generation specifically, reach them in a space they are familiar with.
Millennials (1981-1996)
Millennials are the most discussed generation in years. They are a generation that knows exactly what they want and use their power in numbers to impact our world.
Happiness Levels:
According to the Good Hire study, Millennials are the happiest generation at work, and 60% report being fulfilled in their positions. They are the least dissatisfied with their work-life balance and are the most satisfied with their pay. It is also important to keep in mind that Millennials are the generation most likely to look for a new position in the next 12 months.
What they desire in a new position:
Millennials are READY TO GROW. Now, while they are still focused on building skills and improving their networks, they are ready to take their careers to the next level with:
1) Higher salaries
2) Remote work and flexible hours
3) Career advancement
4) Company Culture that matches their ideals
5) Team-based environments
Recruitment Tips:
This generation is highly digital, as the first generation to live their lives online. A strong omnichannel digital marketing plan is required to land top talent from this generation. Focus your job page content on company culture and collaboration. In your job descriptions be sure to highlight flexibility. This generation prefers remote work and does not favor the traditional "9 to 5" work hours, as their prioritized focus is on productivity, not standard processes.
Generation X (1965-1981)
Gen-X is often called the "forgotten generation." They were latchkey kids in their childhood, leading to an independent streak as adults. More traditional than Millennials and Gen Z, they prefer formal career paths and are less focused on collaboration. They are coming to a place where they would like to pass on what they have learned to the next generations of workers.
Happiness Levels:
Generation X is in the middle of the road as far as happiness in the workplace. Generation X aren't as happy as Millennials, but they are also not as disappointed as Boomers and Gen-Z are. Work-life balance and pay rate are the two areas that could improve the overall happiness of this generation.
What they desire in a new position:
Generation X wants to be valued for their experience and the skills they bring to the table. This group likes open and honest communication and calmness in the workplace while being highly adaptable.
1) They highly value work-life balance
2) Consistency with room to grow
3) Strong Benefits package that includes traditional and modern benefits
Recruitment Tips:
Your career page content should focus on benefits and work-life balance with this generation. They are interested in company culture but are more interested in knowing what the day-to-day aspects of the job entail. Show them that you are a company that values their knowledge and experience. While not raised online like Millennials and Gen-Z, this generation has adapted to become tech-savvy. They like to connect via text and email, so ensure that your omnichannel strategy includes these more traditional online portals.
Baby Boomers (1946-1964)
Covid has hastened the exit of many Boomers from the workforce. Happiness levels are lower for Boomers, and they are willing to give up career advancement in favor of a better work-life balance. Not all Boomers are ready (or able) to leave the workforce, so companies should not shy away from this generation for fear of impending retirements; instead, they should embrace this group for their knowledge and experience.
Happiness Levels:
When it comes to happiness levels, Boomers more closely relate to Gen Z than Millennials, with 19% of Boomers surveyed stating that they hated work, while 63% stated that they were not satisfied with their work-life balance. Only 37% of Boomers report that they are happy with remote work.
What they desire in a new position:
The needs of this generation vary greatly. Some are looking to step back from full-time to more flexible arrangements, while others are still looking to advance their careers. They're looking for:
1) Stability: they want to know that they will not be pushed out the door
2) Salary
3) Traditional Benefits with a focus on healthcare and retirement savings.
Recruitment Tips:
Contrary to popular belief, Boomers are not "tech-phobic." They are avid users of Facebook and YouTube while still reading the newspaper and listening to the radio. While you can reach this group through more traditional media channels, they are still able to be reached through digital marketing.
Your job descriptions need to focus on describing the job itself and its day-to-day functions. This group is less interested in company culture than other generations.
IN CONCLUSION
Now, I know after reading all of that INCREDIBLE information you are probably thinking,
"Wait, there's more?" YES. YOU GUESSED IT — It's time for the Sales Pitch! (I know you have been expecting it, so we won't disappoint).
I'm sure by now you have discovered that Lionzone Digital Marketing created this blog. Surprise! One of my absolute favorite features of our LZservices, is that we don't believe in long-term contracts!
We believe this — If we don't earn your business every day, we don't deserve to keep you!
— Let us earn your business & assist your company with their Recruitment Marketing needs. You won't regret it. —
For more information about our services, please see https://lionzone.com/recruitment-marketing.
Resource Material for this Blog:
https://www.goodhire.com/resources/articles/meaning-of-work-survey/