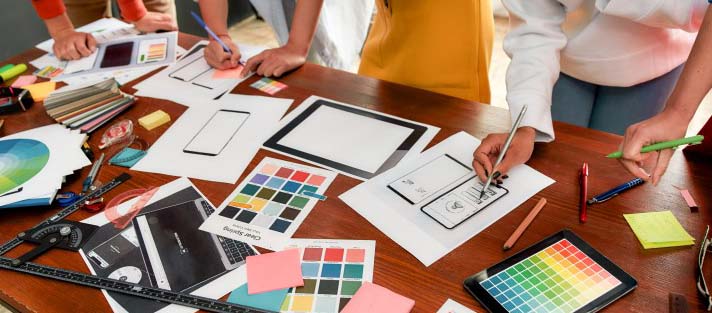 As we look toward the coming year, we are starting to tease out the major trends in web design for 2022. The key themes we see for 2022 revolve around simplicity and interaction. Let's take a quick moment to look at some of these trends.
1) Simplicity: One of the key trends that we see for 2022 is simplicity—effective use of white space and a more minimalist design. Utilize visuals and interaction to draw in your customers. Text that engages the mind and increases curiosity but is not heavy and complex. Short, clear, and to the point CTA's and simple lead forms.
2) Accessibility: It is vital in 2022 to keep accessibility in mind with your design. Color contrasts, Dark Mode, font scaling, voice commands, and ensuring your metatags are optimized for readers are just a few of the steps you should keep in mind with your design. Show your clients that you understand their needs by ensuring that your site is accessible.
3) Movement: Add motion to your page, engage the mind, and keep visitors on your page. From animations and videos that engage users in your message to micro-animations that engage when you hover over them, to color changes and for-ground vs. background scroll timing, the goal is to beat the low attention span of modern users and increase their interactions with your site. Note that it is vital that these engagement features do not slow your load time, aim for load time no slower than 2.4 seconds.
4) Interactive: Today's audiences want more than just to read or watch. Tools that build interactivity to your site, from basics interactives like quizzes, polls, calculators to up-and-coming technologies Virtual and Augmented Reality tools, it is important to offer the most appropriate and engaging interactions to your site as possible.
5) Uplifting: It is important to focus on positivity in your design, content, and experiences after the last two years. Focus on an uplifting or hopeful message. Utilize colors that ensure feelings of optimism, safety, and hope.
For more information about the meaning of colors:
https://lionzone.com/blog/color_meanings_web_design_and_branding
You have been expecting it- the sales pitch. Here it is! As I am sure you have discovered, this blog was created by Lionzone Digital Marketing, which means that we would be more than happy to assist your company with its digital marketing needs; for more information about our web design services, please see lionzone.com/website-design-development. My favorite feature of our services, no long-term contracts! If we don't earn your business every day, we don't deserve to keep you!