November 1, 2021 will mark the 22nd anniversary of the founding of Lionzone. In honor of this auspicious occasion, Lionzone is celebrating by launching our new website design. Today, we will take a walk down memory lane, looking at how the world of web design has changed in the last 22 years.
Lionzone was founded in 1999 under the name of Sagelion. This screenshot shows our website circa August 31, 2000. This clean and vibrant design showcases two of our branding colors and focuses on using white space to draw the viewers' attention. Unlike today's design trend, affective websites from 1999-2000 focused on clearly presenting information with little focus on images and interactivity.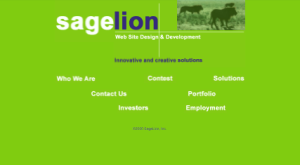 In 2001, Sagelion's website was updated to keep up with changing designs and user experience trends. This design is more visually engaging while offering informative text and keyword emphasis in the first paint for SEO. In terms of branding, green and blue are still the focus of our colors, and our tagline Gets Results is displayed.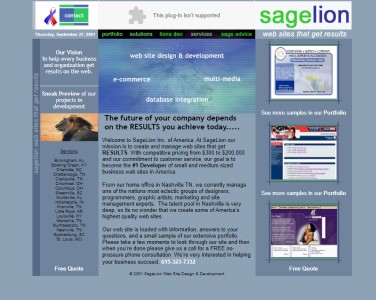 In October 2002, Sagelion rebranded to Lionzone. With this rebranding, you can see that the green and blue brand colors of Sagelion are still in place, with orange joining the mix. These brand colors remain in use today. This design has a more modern feel than its predecessors, with the left-hand navigation, images as the focus of the first paint, along with keywords for SEO.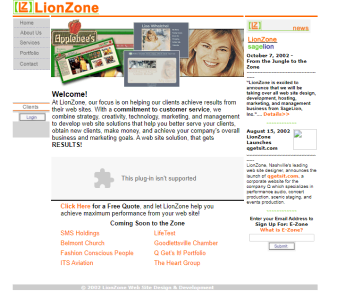 Jumping ahead to 2010, you can see the prominent use of all three branding colors, highlighted to an equal level of importance. This award-winning design featured the use of the F pattern to draw the user's eye to the more important information and utilizes color and images to attract and keep attention.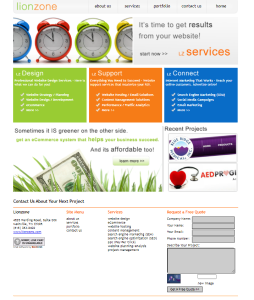 In 2018, Lionzone launched a new mobile-first site. The desktop version of this site focused on the F pattern and its ability to draw the eye. This design also features prominent CTA's and a strong framework to guide the user through the sales funnel.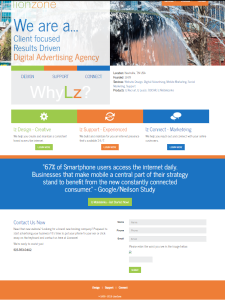 Today we are proud to show you our newest Lionzone homepage. This modern homepage honors our past while moving us into the future. We are launching the homepage of this website early so that you can see the site develop in real-time. We hope you will enjoy watching this website take shape over the next few weeks before culminating in the final product in time for our anniversary.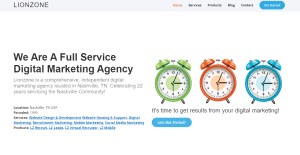 If you would like to learn more about colors for branding and website design features, please check out these resources:
Visual Hierarchy and Web Design (lionzone.com)